With the COVID-19 pandemic outbreak that affected the whole world, the real estate market, just like many other industries, experienced a slowdown in the past three months with sales plummeting to record lows. With social distancing rules in place and many businesses restricted to operate, most homebuyers and sellers decided to delay their buying/selling process and wait for a better time. However, as the restrictions against the COVID-19 spread are being gradually lifted, we are starting to see more homebuyers and sellers getting back on the market. It will probably be a long way for the market to get back where it was before the pandemic, but it is good news that Burlington and Oakville buyers and sellers are slowly re-entering the market. Let's take a closer look at the stats for a better insight into what is happening in the Burlington and Oakville market.

Sales and new listings dropped
After sales went down by approximately 60% in April in Burlington, Oakville and the rest of the GTA (but not home prices), the market seemed to have picked up a bit in May as there was an increase over 30% for both, sales and new listings on a month-over-month basis, but it is still roughly half the number of transactions we saw in May 2019.

Prices went up in Burlington and Oakville
While the number of new listings and sales in April and May dropped significantly on a year-over-year basis, the prices in the Halton region remained more or less steady, whereby Burlington and Oakville (just like many high-in-demand communities) saw even a price increase despite slower market activity. This should not come as a surprise given that sellers, just as buyers, faced less competition, so the supply and demand ratio was not necessarily disrupted.
The market changed significantly year-over-year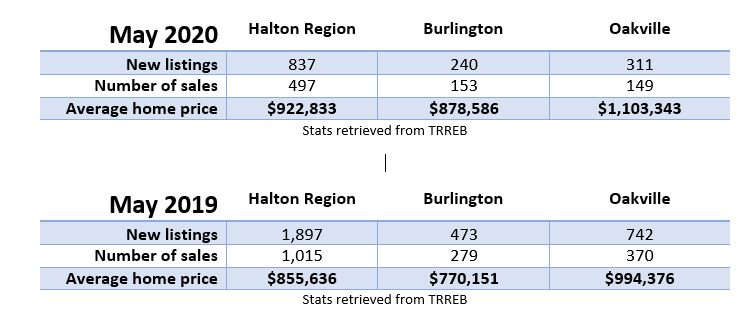 Looking at the data, new listings for the Halton Region dropped by 55% year-over-year and the number of sales by 51%, while the average price grew by 7.8%.

Similarly, Burlington's new listings dropped by approximately 49% year-over-year and sales by 45%, but the average price increased by almost 20% compared to May 2019, which is far above the region's average.
As for Oakville, new listings went down by 58%, and sales by 59%, whereas the average price climbed by almost 11%.

Detached homes in Burlington have reached an average price over $1 million, while last year it stood at $970,718. In Oakville, the average price for Detached went up by 6%, which only indicates that single-family homes in these two communities are the most popular choice for homebuyers. While some GTA neighbourhoods have experienced a price drop by even 30% in the last three months, Burlington and Oakville remain high in demand due to their great location great infrastructure, and beautiful properties. Click here to find listings in Burlington and Oakville, and for any additional information contact us here.