With the pandemic having affected the economy, especially small businesses, we can say that a very challenging year is behind us.

The real estate market stayed resilient and although volume of sales stalled in the early months prices reached new heights in January.

While the economy is still on the recovery path and many businesses have not reopened yet, the real estate market has exploded this winter with demand far outpacing supply. . The GTA real estate market recovered strongly during the fall and winter, and the stats for January 2021 look more than promising.

The Halton Region alone experienced a sales growth of 40% on a year-over-year basis, while the average home price went up by 25%, with the hottest commodity being detached homes. The average price for detached homes in Halton grew by 35% compared to January last year.

The GTA, including Halton, has officially re-entered a seller's market. After the initial lockdown, the demand for spacious housing grew quickly, given that many homebuyers wanted to benefit from the low mortgage interest rates. If you were thinking of selling your Oakville or Burlington home, it is the perfect time to do so as market conditions are more than ideal at the moment. Let's take a closer look at the market in Oakville and Burlington.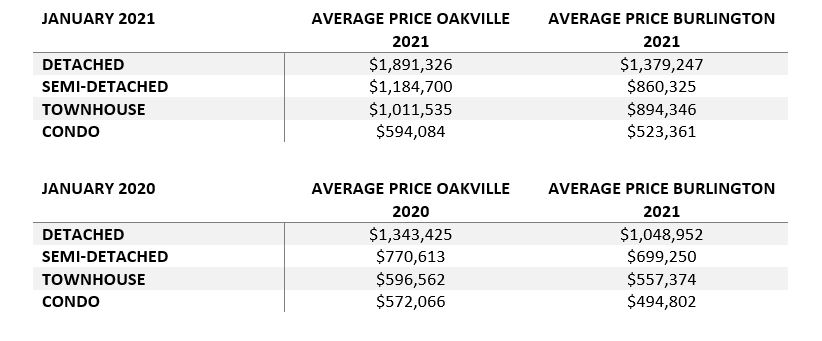 Looking at the individual home types, we see that the average prices in Burlington and Oakville went up for all home types with no exceptions.
An almost 20% price increase in Burlington and Oakville homes with detached in the lead
With the detached market being in the foreground in the past two quarters of 2020, it is no surprise that Oakville has seen a price increase of 19.4% for detached over the past year. Detached homes have always been highly coveted in Halton, especially in Burlington and Oakville, but the pandemic has definitely contributed to even stronger demand.
What might be surprising is that Oakville condo prices are also up by 6%, unlike in some areas, like Downtown Toronto, where condo prices temporarily softened .
The Burlington market is likewise very hot. The average home price increased by 18% from last January and stands now at $982,000. Sales are up 31%. The Burlington market saw properties sell 6% over asking in January 2021, which again indicates how rising demand drives down inventory levels. Check out North Burlington listings here.
Why is demand so strong?
With COVID-19, homebuyers became more conscious about their living arrangements and the importance of space, looking for more square footage and houses where they can keep their social distance, enjoy their own outdoor space, and conveniently set up a home office. The lower mortgage interest rates further increased their purchasing power and encouraged buyers to look for more spacious attractive family homes.
The demand is expected to keep going up, and according to real estate forecasts, a seller's market will prevail in the coming months of 2021. GTA residents are expected to keep showing interest in attractive detached and semi-detached neighbourhoods, particularly in Oakville and Burlington.
For available listings, selling tips and tricks, and information on the Halton market, make sure to contact The Martin Group today.